AHT Congenital Hereditary Cataract (CHC) research in The Miniature Schnauzer
Further to the AHT's approach to the JMSEF in December 2015, indicating that they were in a position to conduct a second genome scan for CHC, approval for funding was agreed. Sue McGrann, secretary JMSEF formally presented the cheque for this exciting project to Cathryn Mellersh, AHT at Crufts on 12th March 2016.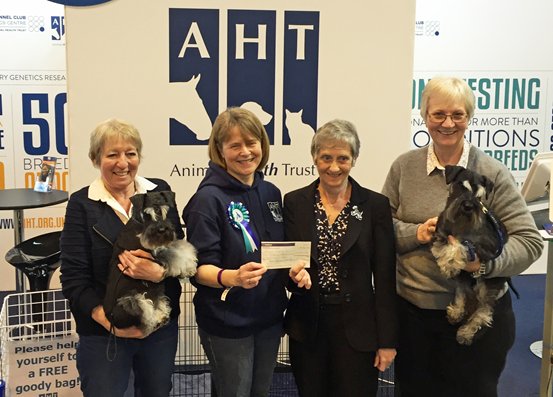 From L-R:  Miniature Schnauzer Club representative and Chair JMSEF, Janet Callow; Cathryn Mellersh, AHT; Schnauzer Club GB representative and Secretary JMSEF, Sue McGrann; Northern Schnauzer Club representative, Chris Ellingworth.
This project will form the second phase of the AHT's study of CHC in the Miniature Schnauzer, covering the second whole genome scan and a possible whole genome sequencing (WGS) of a CHC case or unaffected first degree relative.
This second genome scan will involve the 13 additional cases of CHC (since the first scan) together with 13 first degree relatives' controls that are available, making 26 dogs in total. The genome scan will be merged with the previous one for the main analysis.  From this, the best-case scenario is that the AHT researchers will be able to identify a region of the genome associated with CHC.  Then, using their current whole genome sequenced CHC case, they will try and find candidate variants, or mutations, underlying that association and will test them in any additional cases and unaffected Minis that they have in their database. This will hopefully lead them to a successful outcome.
The AHT hope to start this new research early 2016. This is excellent news for the breed. The JMSEF, the UK breed clubs and all Miniature Schnauzer owners wish the AHT and their team of researchers every success in achieving a successful outcome of this project.